We were late posting our letter in 2009 and we are even later in 2010. We said we'd try to be better this year but we failed. Talk about falling service levels. Oh well …
Going back to end-January 2010 Usa, Roger and Rex came back to Australia after spending 5 weeks in Thailand. As you'd expect they had a great time; the main comment was that the whole trip only seemed like 2 weeks because there was so much to do. Neil went with his Father to Adelaide to celebrate Christmas [2009] with his Mother and sister. We all had a wonderful time there, too. See below for a special gift we bought for Neil's Mother featuring all the Gamble Family members.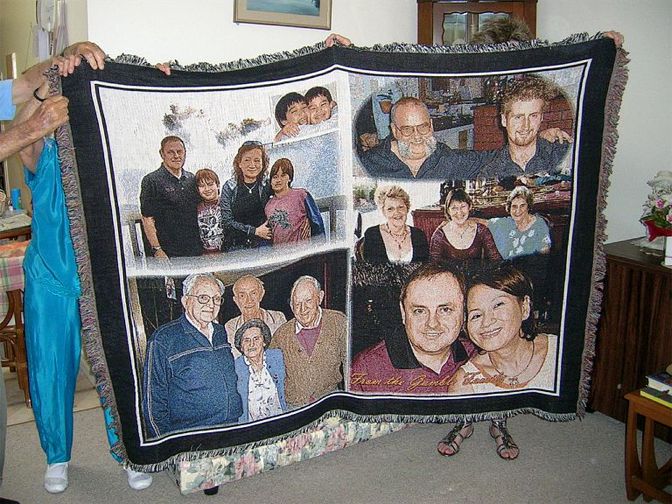 Gamble Family Photo Blanket
The Gambles had lots of changes in 2010. In 2009 we mentioned that Usa was doing a great job at the local school canteen – which made money for the P&C [PTA] for the first time. This year she decided she wanted to make money for herself so she bought a coffee shop. She is now the proud owner / operator of the Take 5 Coffee Shop which she took over at the beginning of July. It wasn't doing well when she started – probably losing money – but in her own style and with lots of hard work she is turning it around. She boasts the best coffee in the area [her words] and features a lot of home baked / home cooked food. So she's doing everything she can to make it a success. [Unfortunately the local regulations in Australia don't allow her to cook anything significant on the premises; that would be a restaurant, not a coffee shop; so her cooking talents may never be discovered.] The coffee shop is in Seaforth, a Sydney suburb close to Manly and not far away from where we live.
Talking of where we live, we had to move again this year. Our landlord in Cremorne decided he wanted to sell the apt so with 3 weeks' notice we had to find another place [and after being told for 2 months that the lease would be renewed]. This time we moved to Neutral Bay, a bit closer to the city but not as good as we had before; it's smaller, with the added bonus that our rent is now 20% higher. You probably don't know Sydney's geography, but we started 3 years ago in Mosman then moved to Cremorne and now Neutral Bay. That is one suburb further west every time we move. If we're not careful in 10 years' time we'll end up in Parramatta. [That's a big commercial and residential area in the western suburbs of Sydney, so of course we're exaggerating.] But wouldn't you think that at some time we'd come across a landlord who wants to rent a property long term and not sell it or renovate?
Roger had a short time in Year 11 – the first of two senior years in Australian schools. Short because only 3 of the 4 terms were spent in Year 11. The fourth term is officially Year 12 – the beginning of the final year of school. After 3 more terms he has final exams for his Higher School Certificate [HSC], which also acts as the matriculation process into university. The HSC is done 50% by assessment – so every school assignment in Year 12 counts to his final grade – and 50% by examination. Roger has a strong science bent to his studies and enjoyed the Year 11 Psychology course the most – so much that he wants to study Psych at university, via a B.Sc. degree. So, good luck Roger and we all wish you well. For those of you wondering if he still loves heavy metal he does, much to his Dad's annoyance. [Neil swears he was never like that when he was young …] Roger went to several concerts through the year but the highlight was probably Metallica in November.
Rex has gone through changes as well. He played what he expects to be his last season of rugby. There are several reasons but the main one is the expectation that he will soon wear braces on his teeth; and his parents can't bear to think of the mess his mouth could become from just one bad tackle. It's true that he can get a special mouthguard so maybe we are overly cautious. He also enjoyed playing basketball but his school-based team looks like it is falling apart so that's not likely to last either. And Rex's love of singing ended this year; he says he wants a few years break. So what's left? Good question. Rex needs to find something new. But in his sports Rex went out on a winning note. His rugby team won the "plate" competition [that's the competition for the teams that didn't make the playoffs] and his basketball team won two out of two after-school competitions during the year. [And they won the competition in 2009, too.] Talk about going out on a high note.
While Rex has decided to stop singing he still likes music. In January he went to his first ever concert – by AC/DC – his 2nd favorite band; not a bad way to start. He went to see Metallica with Roger; and he followed up with a Bon Jovi concert in December, his favorite band. Neil was lucky enough to join Rex for both AC/DC & Bon Jovi.
| | |
| --- | --- |
| Rex's team was thrilled with the win | Bon Jovi perform on a moonlit night in Sydney |
Talking about Neil, he didn't want to be left out of all the changes this year …
Avid readers of the Gamble Chronicles may have noticed he wasn't thrilled about working for HP. Poor company morale; poor financial prospects [for employees]; poor outlook for work in financial services. So he decided to do something about it and after looking for work in Singapore, Malaysia, Indonesia and the Middle East he managed to get himself a job … in Papua New Guinea! How on earth did that happen? Actually, he's not sure and is still trying to figure it out. Anyway, Neil is now the Head of IT for Bank South Pacific [BSP] based in Port Moresby, PNG. BSP has businesses in PNG, Fiji, Solomon Islands and Niue with an outlook to acquire in more locations. Its vision is to be the best bank in the South Pacific. It's Neil's job to provide the technology to deliver the vision.
During the interview process it was clear that the work Neil did for Bank Papan in Indonesia provided a great grounding but BSP has a much stronger base. It's the largest bank in PNG, accounting for 55% of all deposits and loans in the country. In many places BSP is the only bank in town, so it's literally banker to the country. He's been in the role for 3 months and it has certainly been a challenge. He should start a journal because the things that happen are unbelievable; so many things that he could write a book every quarter. Do you know that in Port Moresby there is a blackout almost every day? [Well, OK, maybe just 3-4 every week, but it's still incredible.] And the most amazing problems seem to happen on the weekend when people aren't in the office. Does anyone want to go to Port Moresby and help??
So 2010 was a typical year for the Gamble Family – lots of change. We wish you well and hope 2011 is a great year for you and for us; and especially for Roger.
Best wishes from the Gambles in PNG and Sydney.
Neil, Usa, Roger and Rex