Two weeks into the year my boss called me to his office, on a Monday morning which was unusual, and I wondered what it could be. This is paraphrased but close to the actual conversation.
Boss: "It's time for a change. We're letting you go."
Neil: "Really? When?"
Boss: "Now."
Neil: "Oh. I have a 3 month notice period. So I'll leave in April, right?"
Boss: "Senior staff leave straight away. We'll pay out the 3 months. You'll leave now. Today."
Neil: "Oh."
That was it -- short and sweet. After 8+ years I guess things were getting stale and it was time for a change.
I spent the next 2 weeks organising my things and left PNG on January 29. Where could I go? I don't have a place in Australia. My sister, Barbara, lives in Adelaide and kindly allowed me to bunk there for a while. Free accommodation -- who could turn down an offer like that? So I went off to Adelaide.
February
I had tickets booked to Bangkok for a holiday to see Kung and it made no sense to change plans. I had a good time there and enjoyed the trip. (Kung was a little startled by the news. I don't think she enjoyed it quite as much.)
When I went back to Adelaide we had a mini-family reunion. My sister Kim came from the US to see Dad and Barbara; I managed to join them for a few days after my Bangkok trip. Our cousin from Sydney also came across. We got together for a nice dinner and caught up on events spanning many years. The last time we were in the same place was 1998.
| | |
| --- | --- |
| Dad & Rosemary | Dad, Barbara, Kim, Carolyn & yours truly |
March
Going back to the events of January there was another question. What could I do about work? Before I left PNG I met with some people involved in a big initiative at the central bank. They were open to the possibility of me helping out and things got serious around the end of February. After returning from Bangkok and a frustrating week where emails inexplicably went astray I started a consulting assignment in mid-March with BPNG (Bank of PNG) on their national switch project.
This was an upheaval in my working life. I changed from a fulltime, salaried employee to a consultant on a daily rate. I'm now paid for the days I work and not for others. Paid leave for holidays and sick days are a (lamented) thing of the past. I hope I maintain my good health! It also meant setting up a company in Australia. That was an adventure. I asked a friend to recommend an accounting firm and they took me through the process of opening a business there. I used the same company name as the one I had in NZ -- the RUNR Organisation -- which is now established as a limited liability company in Australia. My company webpage isn't much, just a one line domain forwarder -- you can see for yourself at www.RUNR.org.
Technically I am subcontracting to another consulting company for their work in BPNG because they have an existing contract and it was the easiest way to get me on board. It works out well and I get to make a small financial contribution to the other company every month.
The other company is a NZ entity which makes for fun times with monthly payments. They bill BPNG in USD who transfer the funds to an account in NZ, in NZD. It turns out the bank in NZ has a really bad exchange rate. The NZ company then paid me in Australia which required a conversion to AUD. I was horrified in the first month with the difference between what I expected in my AUD account and what I received. Given I've worked for banks for 30+ years I don't think I'm going to get a lot of sympathy, but I was on the wrong end of two bad exchange rates. In that first billing cycle I lost ½ of a billing day in bank fees. To put it another way I was in the position where if I didn't work I wasn't paid. But I gave half of one day's billing to a bank (or banks) just so I could get paid. I don't think so. I had to find a better way. I can't do anything about the USD-NZD transfer but I researched and found a better option for the one from NZD-AUD. I use an internet service called TransferWise. The NZ company now transfers money to my NZD TransferWise account. I convert that to AUD within TW, who have better rates than banks, and transfer the balance to my Australian bank account. It sounds like an involved process but it's straight forward and saves hundreds of dollars every month. I'm happy with that.
May
No sooner did I start work than I was off on holidays again. Rex graduated from college in May. I was determined to go because I booked tickets and prepared for the trip back in August. My itinerary was PNG to Brisbane to Nashville via LAX and Dallas. Then drive from Nashville to Cookeville. After that Cookeville-Nashville to Las Vegas; Las Vegas to Richmond VA; Richmond back to Australia via Dallas. And from Australia I went on to PNG. It was quite a trip.
Nashville / Cookeville
Have you ever thought of what a joy it is to rent a car and drive on the interstate for 70 mins after 3 flights covering 24 hours? It's OK as long as you stay awake -- especially if you're the driver. I left Brisbane at 10am on May 02 and arrived in Nashville at 6:30pm on the same day; taking time zones into account that's 24 hours of travel. It would have been nice to drive in daylight instead of the dark but thankfully it wasn't too much of a problem. And I'm here to tell the story, which means I managed to stay awake. (I concentrated really hard.)
I was in Cookeville for 4 days, just long enough to see Rex graduate, magna cum laude with honors, and enjoy some time with him after 4 years. He was with Eleanor, his girlfriend, and her family who came from another part of TN for graduation day. Eleanor is 2 years behind Rex at college which means her family came just for Rex; I thought that was really good of them. Usa also travelled from Sydney for the big event. She stayed with Rex for almost 2 weeks, mostly before the graduation.
| | |
| --- | --- |
| In Honors robe | That's a lot of graduates |
Las Vegas
I've wanted to go to Vegas for as long as I can remember. Here I am, almost an old man, and I was going for the first time. It's Vegas, baby! I was so excited. You know what? I think I waited too long because I didn't like it much. It was the vibe. I didn't like the vibe. I walked into the Paris Hotel where I was staying, and instead of a lobby I walked into a casino floor; slot machines; blackjack; craps tables; not quite smoke-filled but certainly not smoke-free; it seemed like every cigar smoker in the US lives in or visits Vegas. Where's the lobby? Where do I check in? It was a non-prominent, small space about 30 yards away through the casino floor. After being there for a few days I played tour guide to a middle-aged American guy who walked in from his airport transfer and said exactly the same as me. "This is a casino. I'm coming to a hotel. Where do I check in?" I felt better after that -- it wasn't just me.
I spent quite a bit of time walking up and down the strip (it wasn't hot in May). Lots of people drinking from beer bottles or cocktails in plastic cups -- you know, like regular people walking around with water but the drinks were mostly alcoholic. For me that's not normal.
| | |
| --- | --- |
| Where do I check in? | Normal in Vegas; not so much elsewhere |
I heard about Vegas back in the days when meals and hotels were cheap because their angle was to make money from the casinos. Those days are gone. Man, was it expensive. The hotel, food, shows -- everything was expensive. I made the mistake of buying some ibuprofen in a drug store (CVS or Walgreens). I figured I was in the US, I should buy it while I could. When I was in Richmond a week later I found I could buy it for 1/3 of the price. Lesson learned.
It's not all bad, though. My sister, Kim, lives in Oregon and agreed to visit but only for 24 hours because it turns out she doesn't like Vegas, either. (I thought she was mad when she told me that.) Her suggestion was to go on a helicopter tour to the Grand Canyon. She researched the tours and we booked one with 5 Star Helicopter Tours, which was excellent, that included a canyon landing and champagne brunch. We both had a great time. It was a half-day tour that cost $400 each and was a really good experience. They made a video of the ride from beginning to end which I think cost $40 or $50 and is a great keepsake. As they had no problem with us sharing the video (we asked permission), Kim bought it and sent me a copy. If you go to Vegas, plan ahead and do this. It's well worth it.
| | |
| --- | --- |
| Entering Grand Canyon; we had some light rain | We landed in the canyon |
| | |
| --- | --- |
| The tour company helicopters | Bye bye canyon, gotta go now |
Kim had to spend the night because she couldn't arrive early enough in the morning to connect with the GC tour. We took advantage of the time to catch a show. We chose the Cirque du Soleil Beatles show. It was wonderful. The music was always going to appeal because we're from that generation. But there were so many things happening on stage. I felt I could watch it every night for a week and see something new each time. I like Cirque du Soleil. When Kung and her family visited Sydney a few years ago we went to a show there and it was similarly impressive. Count me as a fan.
Maintaining the upbeat tone, I have to mention the Venetian Hotel. It's the most impressive hotel I've seen anywhere. I was blown away. I spent 3-4 hours inside walking around, seeing what they have, trying some food, watching the entertainment in the central square (piazza), looking at the paintings / artwork / sculptures in their lobby -- it was great. It may be over the top, and not genuine, but I enjoyed it. If I go back to Vegas I'll stay in this hotel.
| | |
| --- | --- |
| Impressive corridors & ceilings | Entertainment |
While I didn't like the Vegas vibe and I'll only go back for something special I have to say it was good to see a pyramid, New York, Paris and Venice all in a few hours. To use the language of our time -- it was fake, but it was great.
| | |
| --- | --- |
| Paris Hotel | Sometimes I just get lucky when I press the shutter botton |
The best souvenirs I bought on the trip were gambling chip magnets and a gambling chip (non-magnetic) keyring. I have one magnet on the fridge (I gave the others away) and use it as a dock for the keyring with my car key; they're useful and I smile when I use them. The magnets cost $1 each and the keyring $1.29; memories don't have to cost a lot.
| | |
| --- | --- |
| Good as fridge magnets | Lots of key rings |
Richmond
After my overall disappointing visit to Vegas I went to Richmond to meet an old friend. We worked together in Bank Papan in Indonesia and again in Capital One in the US. When we left in 2001 he stayed and is still with them today. Given the way Capital One turns over staff it's an incredible achievement to be still there and well respected. He lives in the same house he bought in 2000 in a wonderful housing development -- it was a great community when we lived there and still is now. His family grew up in VA and he's a contented guy with a good wife and two great children. Well, they're hardly children as his son is now in Virginia Tech and his daughter is around 16 so I guess she's in grade 10. It was good to visit my old friend and see he and his family are happy with their lives.
On one of the days he took me on a tour of his work campus at Capital One. It was great. Eight office buildings, a conference center and a multi-use facility in a parklands setting, all built around a central lake. He said there are about 2,000 staff on the campus -- all working in IT. He also drove me to the area where we (the Gambles) had our house in 1999-2001 and it looked as good as it did back then. The trees and shrubs have grown but otherwise it's the same. On the weekend he demonstrated his cooking skills when he made smoked pork ribs for dinner -- see the photo below.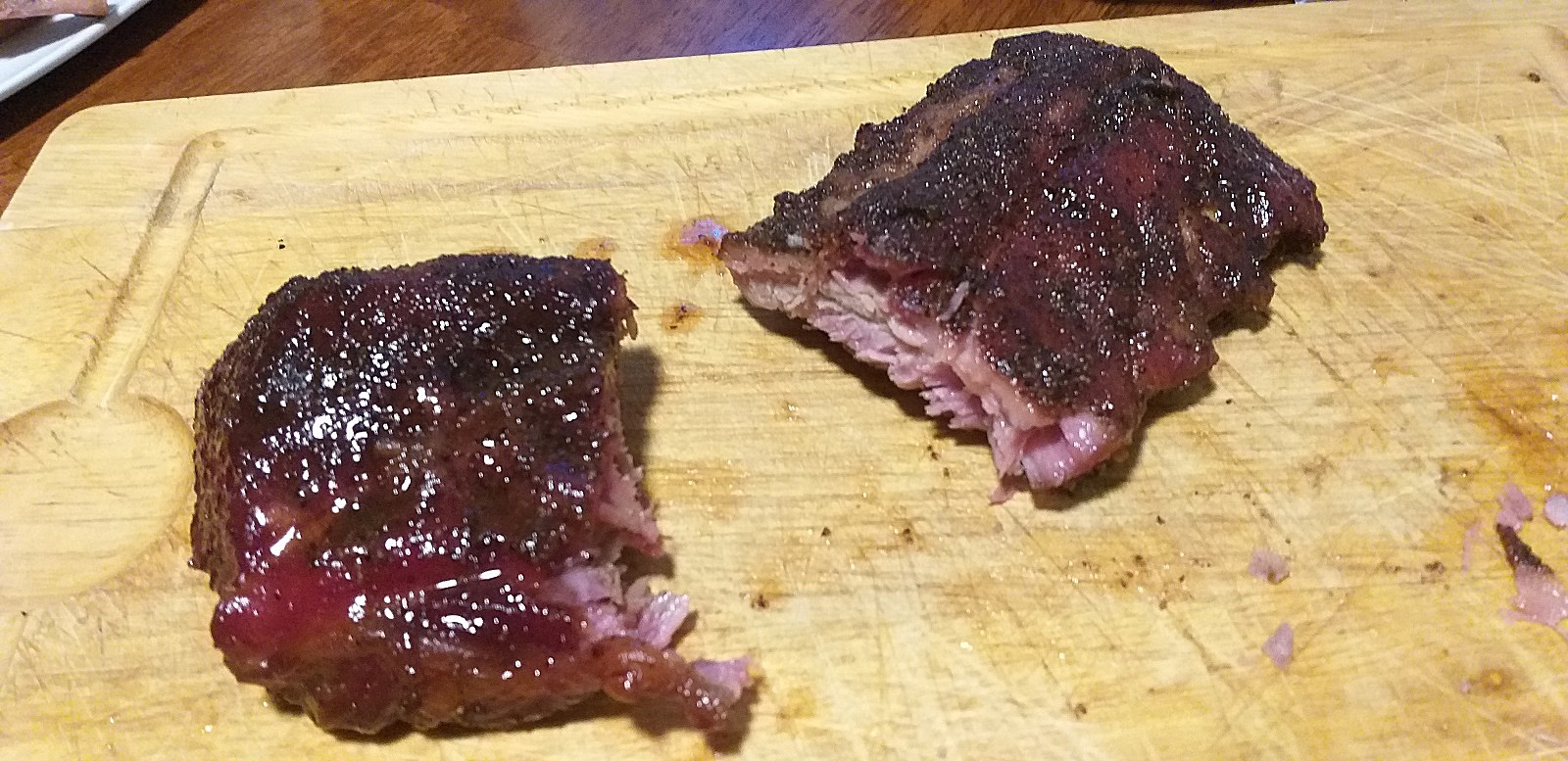 So good
I had a good time in Richmond.
On the way back to Australia I had about 7 hours in Dallas. Another one of the ex-Bank Papan IT staff lives there and I was able to catch up with him for dinner before the flight back to Australia. I enjoyed that, too. It was a trip to catch up with old friends as well as celebrating Rex's graduation.
July
The national switch project went live on 21 July. Let's be honest -- other people worked on this multi-year project and contributed a lot more than me. All I did was turn up near the end and give it a little push here and there to get it over the line. But it was implemented successfully and has been operational without hiccups since the go live. No matter what role I played, I was there at the beginning and it's something to be proud of.
The timing for this next item is debatable. It could have been April because that's when we found out or it could have been August because that's when it happened. Rex's news is he's now doing a Masters in Virginia Tech. On a full scholarship. Well done, Rex!
July / August
By this time I was thinking I'll be in PNG for a while -- maybe until I retire in 4-5 years' time. I don't have anywhere to call home, I enjoy my visits to Cairns and I like the weather there. While I have limited funds and can't afford much for property I thought I should try to buy a modest apt. I expected a hovel. When I went looking I was amazed -- it seemed like I wouldn't buy a hovel but a nice place, even with my limited funds. Cairns is affordable (for Australia).
The big decision was location. I had a choice between the city suburbs or the northern beaches. The city suburbs are more convenient with better access around town. The northern beaches are quieter and (web-based) feedback says they're more friendly & community oriented. There wasn't a lot of difference in price with the city being 10-15% higher. The trade-off is it takes 25 mins to drive into the city. Given my long term goal is to have something for retirement I chose the northern beaches. I looked at factors I wouldn't normally consider -- crime rates, aircraft patterns, flood maps and storm water channels. Across all criteria one suburb, Clifton Beach, came out on top. In late July I made an offer on a 2 bedroom, 2 bathroom apt about 600 yards (550 meters) from the beach. There's no view; I can't afford a view.
| | |
| --- | --- |
| Self titled | The beach |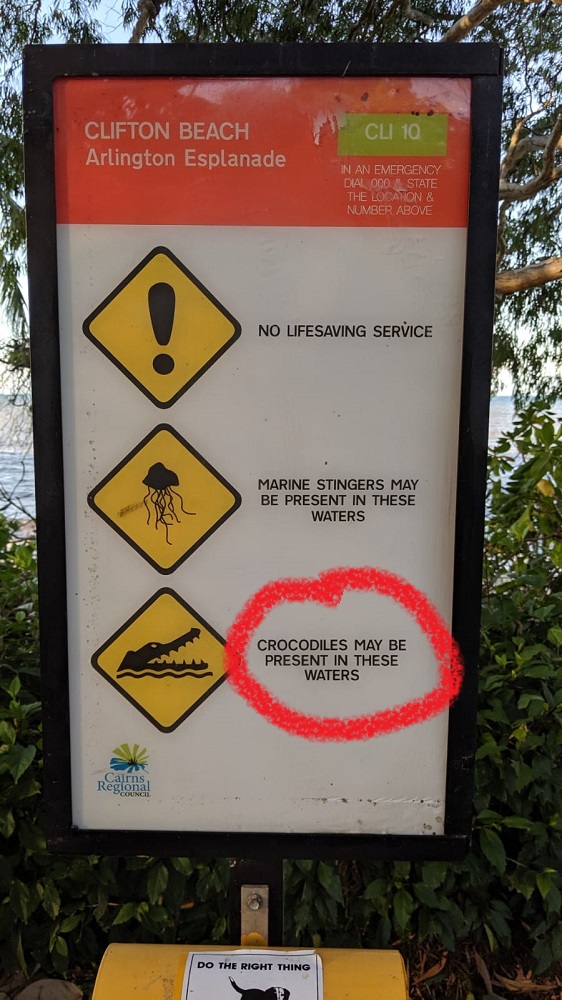 Nothing's perfect
If you look back to the earlier part of the year you'll see I had to overcome a hurdle. I have only been employed in Australia since March. I work for my own consulting company. Lenders viewed me not as an employee of a company but self-employed and they wanted two years of company tax returns to qualify for a loan. I set up the company in March. I couldn't get a loan and my only option was to pay in cash. And this is where I was lucky. It was bad news that I was let go in January, right? But my entitlements were paid out, which gave me more funds than I'd normally have. I still had some savings from the previous year or two. Putting it together and repatriating some money I had in the US for Rex's school I managed to get the apt. The "funny" thing is if BSP hadn't let me go I wouldn't have the time or money to buy it. And Rex having that scholarship in VT didn't hurt, either (thanks, Rex). While I wasn't thrilled with the events of January I have to say in hindsight it's turned out pretty well. Ain't life strange?
September
The apt closed (settled) in September. Holy moly, I own a property in Australia. Even I'm amazed. I won't move in until January. Don't ask why -- it's a long story.
October
Going to the US in May meant I missed by normal trip to Bangkok. I generally have 3 trips a year but this year there were only two. I went in October. I had a good visit and caught up on the many things I normally do there. Shopping supplies were extremely low and I had to stock up. We went out for a special meal one night and had really good seafood. A sizeable, whole fish and lots of big prawns swimming one minute, cooked a few minutes later and eaten. You can't beat it for fresh food. Who needs refrigeration?
| | |
| --- | --- |
| Pepper & Garlic | Grilled |
December
Roger had a quiet year, not getting the opportunities he would have liked. He's applied for some postgrad courses that interest him in neuroscience. He won't get news about these until mid-December but I / we hope he's accepted because it would be a positive move both for his development and career. Until then I'm told he's a cool barista who makes a good coffee.
I'm going to Adelaide for Christmas and New Year. The main attraction is to see my father who will celebrate his 94th birthday on December 23; then spend Christmas and New Year with him and my sister's family. Dad is barely mobile these days as he has problems with his knees (bone on bone), is in a wheelchair most of the time and gets to the dining room of his retirement home using a mobile scooter. I'm told it's as much of an effort for him to get on the scooter as it is to ride it to the dining room. His mobility challenges have resulted in several falls in the past few months and it seems like he's slipping away. All the more reason to go and see him for his birthday. I'll stay with Barbara again and clear out the things I left at her place when I was there early in the year.

I'll say it again. Wow, what a year.


I send my best wishes to everyone for 2020 -- it should be a good year for vision (which proves I can still tell a Dad joke).
All the best ... Neil