Was it a wave or a swell?
Some of the videos we have seen on TV show a clear wave. We saw the wave as it was coming into shore and it broke on the beach but much higher than a normal wave - around the top of the beach. From that point onwards it was more like a rapidly rising tide; there were waves after the initial onslaught of the water, but it was like the tide coming in – really fast!
We have learned since that there is no universal truth in waves and their size, which is borne out by so many different accounts of events around the region. Unlike a surface wave, a tsunami wave travels all the way from the ocean floor to the surface and the size of the resulting wave, when it breaks on shore, depends on the incline of the sand approaching the shore; a shallow beach has a small wave and a steeply angled beach has a large wave. At Karon we had a shallow beach so the water rose rapidly but we didn't have big waves; conversely, the water had a lot of horizontal power and moved very fast laterally.
How Big Was It?
It's hard to say how big the wave (or the swell) was. We estimate that for the sea to get from its normal high tide to the point it would break the bank of the beach was about 5-6 feet; to get into the restaurant would be another 1-1½ feet and the photo shows that the initial water rose to 3 feet in the restaurant within about 15 seconds of breaching the steps. We have photos of the destroyed ground floor hotel rooms taken the following day that have debris marks around 5 feet off the floor (see photo gallery below). So adding these together we estimate that the water rose about 10-12 feet.
As it turned out, we were lucky. Karon beach backs onto a high hill; next to the hotel is a man-made lake and behind the hotel there are two storm water drains (one to feed the lake, the other a true storm water drain). Patong beach is flat for long distances, which is why the destruction there was much worse. In Patong the water had no natural barrier to prevent it spreading, so the water just spread inland, bringing destruction with it. People who went into Patong two days later said that it looked like a war zone, that there was massive damage to shops and offices; and worse, we know there were many bodies taken off the beach. In Karon beach, as scary as the experience was for us, we enjoyed a significant amount of good fortune from the contour of the land.
The Earthquake
We now know that the tsunami was caused by an earthquake off the coast of Aceh (northern tip of Sumatra) at 0800 hrs Indonesia and Thailand time. In Phuket some people reported that they felt the tremors and some didn't. Certainly no-one in the Gamble family felt a tremor. We have heard since that some people in Bangkok reported seeing water agitate in their bath or fishpond at 0800 hrs and that they thought it was unusual.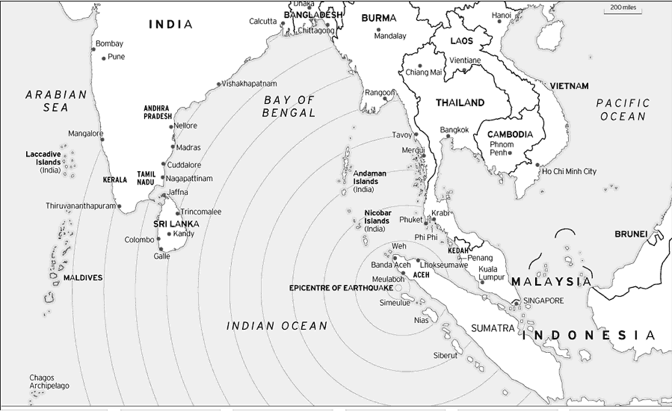 Initial reports said that the earthquake was an isolated event and happened without warning. With hindsight, we don't completely subscribe to that theory. When we returned to Bangkok friends in Australia told us of an earthquake measuring 8.1 on the Richter scale off the coasts of Tasmania and New Zealand early on Christmas Eve. That is unusual because Australia rarely has earthquakes. Some more research showed us that the fault line for the 9.0 quake is the same tectonic plate as the December 26 quake off Sumatra. So Mother Nature did warn us, but the science of earthquakes is such that locations, times and strength can't be predicted.
Water Receding Prior to the Tsunami
We also heard that water receded prior to the tsunami – that this is, in fact, a feature of a tsunami. We understand this happened at 0930 hrs. Even though we were getting to the restaurant for breakfast around that time we didn't notice anything about the water level. It would be fair to say that we weren't exactly looking, either. Neil saw a home video from a Swedish group in the evening that demonstrated the receding of the water. They had taken a boat tour to a nearby island and the water simply disappeared from under their boat. The video shows the boatmen and visitors outside of the boat with the boatmen scratching their heads – they had simply never seen anything like it. There were fish flapping on the open sand. Then the tsunami came. The Swedish group had a harrowing day, getting to the Phuket coast and hiking through the jungle to safety, but fortunately everyone was OK.
The gent who made the video – Peter Strőmvall – said he would make a copy and send it to us on a CD. It'll sure make interesting viewing.
The First Retrieval Foray
On the hill there were all kind of crazy rumors; the best one was that another wave was coming that was 100' high. This giant wave was supposed to hit at 1200 hrs; then it was going to be at 1400hrs; then at 1600 hrs; then it was to be that night. Hhhmmmm … if a 9.0 earthquake produced a 10-12' wave on our beach, then a 100' wave would be caused by a – 12.5 earthquake? Oh well, people believe what they want.
Not believing the stories, Neil ventured down to the hotel at around 1300 hrs to see what could be recovered. The picture was one of total devastation - the ground floor room(s) were trashed. We (the Gambles) had two things that were in decent shape. One Delsey suitcase was closed (but not locked) and the contents of that bag were in pretty good shape. Neil's briefcase was on a high shelf – higher than the water mark and its contents were untouched. Fortunately the briefcase was only half unpacked, so the PDA was OK, but the laptop that was out on a table was trashed. Passports for all the boys (that includes Neil) were in the briefcase so they were safe; but for the most part all of our electronics were either 1) washed away; 2) rendered useless by the sea water; or 3) stolen by looters later in the day. (Apparently looters value electronics that have been rendered useless by sea water.)
Neil managed to get these bags back to the hillside with the help of a kind fellow named Ray who owns the Irish Pub in the main Karon Road. These bags were not easy to deal with – they were full of waterlogged clothes and very heavy. Anyone who reads this and visits Karon Beach would do well to go to that pub and have a drink – karmic repayment to Ray for his kindness that day.
The Second Retrieval Foray
Later again Neil went back to get a suitcase that had been open and was washed by the water into the bathroom. Every piece of clothing in this bag had been inundated with water, sand and debris. He also found another smaller bag we used as a carry on for the airline and stuffed that full of clothes that had been on hangers, but had fallen on the ground. These two bags weighed a ton! Getting them out of the hotel, through the debris and around the lake was extremely difficult. It was movement by baby steps. And no Ray to help this time.
After returning from the hospital Trevor went straight to the hotel to search for possessions. Amazingly, he came out with 2 suitcases and a smaller bag packed full of clothes. One suitcase - a Samsonite Oyster - was closed and all the contents came out unscathed - not a drop of water on them. [That's right folks, we found that the Samsonite Oyster & the Delsey equivalent sealed suitcases are tsunami-proof.] But, like the Gambles, most other clothing was unpacked & badly affected by sea water, sand & debris. He put everything he could find into the suitcases and brought them - unassisted - across to our safe haven. He said it was a lot of effort and a lot of baby steps, but he managed.
On one of the trips down the hillside road Neil went to a hotel and asked about getting a room. They said there were lots of people expected to arrive that day who obviously couldn't make it, so, yes, they had rooms available. One problem solved.
Clothing Aftermath
Later than night, after dinner and getting Roger and Rex to bed, Usa decided she had to do something about the clothes we salvaged or they would be damaged beyond repair. So she took each piece of clothing and first rinsed, then washed each piece, all done in the hotel bathroom sink and then gave them one by one to Neil to put out on the balcony to dry. This exercise started at 2230 hrs and finished at 0330 hrs with clothes piled four deep on the balcony. It was exhausting, but you probably realize that Usa is a very determined person.
Santa
Going back to the Gambles' 2004 annual letter we were wondering whether or not Santa would find us in Phuket. We should never have doubted him because he came through in style. He delivered original Region 1 DVDs from the US to all of us (even Usa and Neil). Roger received Harry Potter 3 and Aladdin. Rex received Bionicle 2 and Shrek 2. Amazingly, for the most part, these survived the tsunami. They were placed in a confined shelf so it was difficult for the water to sweep them away, but the DVD cases and packaging were badly affected by sand and sea water. The DVDs themselves seem fine. Unfortunately, we were in the middle of watching one disc the night before the tsunami and it was still inside the DVD player that was swept away. So that one is gone and will need to be replaced.
The Following Days
The Gambles Leaving Phuket
The Gambles left Phuket in the afternoon of December 28 – using our original airline reservations. In the intervening days we managed to get the clothes we found into good enough shape to pack and travel (dry and without significant odor). We went back to the hotel several times to retrieve as much as we could. Each time Usa asked Neil to check for her handbag, which she threw into the restaurant bar area, but there really as no hope of getting it. If the water could move cars and refrigerators, what hope could there be for a lady's handbag? Still, every trip brought the same request – "Look for my handbag, it has to be there". With everything inside – Thai national id card, drivers license, ATM cards, credit cards, mobile phone, sunglasses, etc – you can understand she didn't want to lose it. Neil complied by looking, but it was a hopeless case.
One hour before we left for the airport, Neil asked Roger and Rex if they wanted to go and see what the hotel looked like. They were interested to see for themselves, so we walked across and Usa joined us. As the boys were inspecting the damage and Roger & Rex were awed by the scene, Usa went to the restaurant and asked the workers about her handbag. Amazingly, they had found it! She did lose her mobile phone and sunglasses, but all the important documents were intact.
The Thompsons Leaving Phuket
The Thompsons were in a different position. Wi and Daniel were both hospitalized in Phuket Town – far away from the beaches. This was deliberate, as Trevor wanted to get them to a hospital that he knew was in a safe location. To minimize family disruption the remainder of the Thompson family camped in the hospital for the duration. Trevor's first business on the following morning was to get clothes; everyone only had the clothes on their backs and the remainder were waterlogged. He went to a Tesco-Lotus superstore (similar in size to a Wal-Mart) and describes himself walking around in hospital gear buying new clothes; he really felt the shoppers were worried that he'd escaped from a local institution. The next order of business was to get the tsunami-affected clothes cleaned. He found a laundry close to the hospital that washed clothes for Baht 5 (US$0.125) per item. Rumor has it that this laundry was the only business in Phuket that made money in the next few days, Trevor accounting for much of it.
With Wi and Daniel recovering, the Thompsons wanted to leave earlier than their original December 30 bookings. But they had a problem - they'd lost their tickets. [The Gambles were lucky, they had e-tickets.] Owing to the rush of people wanting to leave Phuket, it took 2 days for Trevor to get hold of his airline and when he did he was told they couldn't go on regular flights – there would be special flights for people who lost tickets. In the coming days he tried everywhere – Thai Airways and all the no-frills carriers that have sprung up in Thailand – but the answer was the same everywhere; there were no tickets to buy because everything was booked and only special flights would be available for travelers who had lost tickets. So while the Gambles left on December 28, the Thompsons could not. They wanted to go to the airport to be on stand-by status, but the airlines highly discouraged them, saying that all seats were sold, waitlists were closed and the chances of getting a standby ticket were very low. Given that there are 5 in the family, with 2 of them injured and Wi really hobbling, they decided not to try for stand-by. It turned out, after a lot of discussions, that they returned to Bangkok in the evening of December 29, thus bringing an end to a "memorable" experience. They had spent the whole period from December 26-29 in the hospital.
The Hospital
We need to reserve a special mention for the situation in the hospital. Wi and Daniel waited for around 5 hours before receiving treatment; frustrating, but understandable given there were so many people badly hurt and in dire need of help. The hospital lobby was full of people – injured or their friends / family. Bulletin boards had been setup with messages and photos of injured and missing people. There are three major hospitals in Phuket, so families who were separated had to search in multiple locations to find their kin.
There were harrowing tales from every corner of the hospital in the following days. Everything you have read about husbands losing wives, wives losing husbands, parents losing children and children losing parents is tragically true and it was a gut-wrenching, horrible experience to be exposed to it. To go through that experience must be unimaginably horrific. There were stories everywhere of heartbreak, of heroism and every now and again a vision of joyous reunion.
Early in the first day at the hospital Trevor came across an injured JW Marriott employee who said the hotel received about 10 minutes warning of the approaching tsunami. She had personally gone down to the beach to warn visitors that they needed to evacuate. She was injured herself and in the hospital as a patient but was also in shock because no-one took her seriously, the result being many injuries to incredulous hotel guests. She was blaming herself for people not moving away from the beach.