This year was pretty much as expected on the family front. Neil continues to live and work in PNG. The work is tough but interesting every day -- I don't lack excitement and the days / weeks pass quickly. Roger and Rex are in university; Roger in Sydney and Rex in Tennessee.
Roger completed his honors year in neuroscience at the University of Sydney by submitting an 18,100 word thesis. I reminded him of the difficulty he faced when he had to write his first 500 word essay in high school about 8 years ago. I'm a wonderfully supportive Dad. He told me so himself.
In a late breaking update Roger was just informed he will graduate with First Class Honors -- the highest level of honors awarded by Australian universities. He's really happy after the hard work and we're all proud of his achievement.
Last year Roger was in Canada so he decided to have a 21st themed party this year (one year late). He invited me to come from PNG but I couldn't make it so he asked if I'd prepare a speech and send it to him. I made an mp3, sent it to him and he said he was thinking more of a video than an audio. So I spent time making a slideshow to accompany the speech. He thought it was too long but showed it to his friends anyway; apparently they didn't mind. Personally I'm proud of it. I did something I've wanted to do for a while -- a rhyming speech; you can see it here. It has a few tortured rhymes but I hope you'll forgive me because, after all, it's my first effort.
Rex is in his 2nd year in engineering at Tennessee Tech. His results in the first year were amazing and they hopefully continue. He's now a Resident Advisor (RA) at the college and assures me it's nothing like the TV show. He spent time over the summer getting a driver's license so he now has mobility. Given Cookeville is a small town with limited taxis and only a few bus routes driving has made his life easier.
That's about it for family this year so now I'll turn to me, me, me ...
Yours truly turned 60 this year and celebrated with a trip to New Zealand. On my actual birthday I went on a tour to swim with dolphins in Kaikoura. That should be a great story, and it was good, but 4 weeks later there were major earthquakes in NZ. The biggest one was centered just off Kaikoura resulting in significant damage with the town cut off by road and rail. The sea bed rose by over 1 meter in some places and I understand the tour boats are now stranded on rocks at the marina. That's a shame and I hope things recover quickly because Kaikoura is one of the most picturesque places you'll ever see. It's on the ocean with snow covered mountains only a short distance away. The continental shelf drops 1,500 meters just off the coast giving a rich marine environment with a year round sperm whale population. There are seal colonies living literally on the side of the road -- you don't need a zoo in Kaikoura. It's a great place to visit and highly recommended when things get back to normal.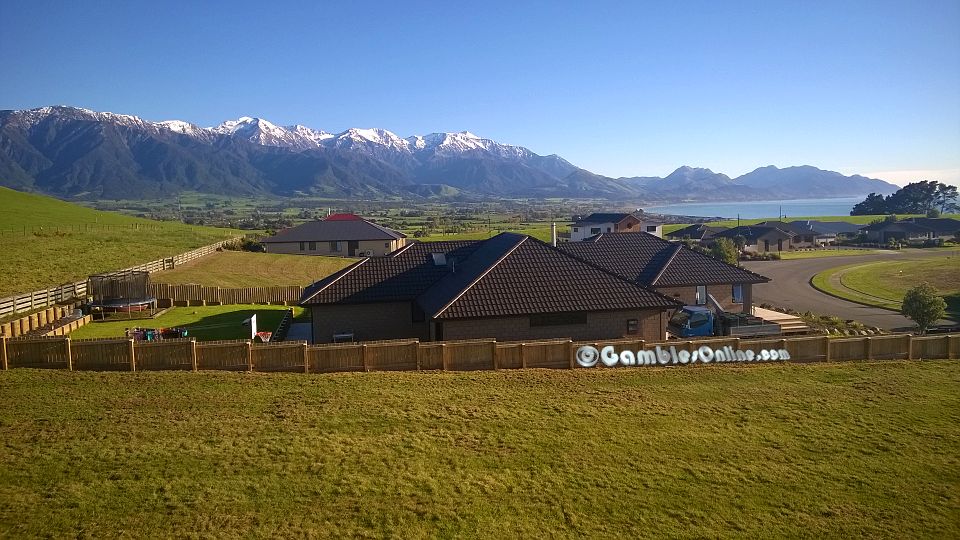 Kaikoura features ocean & mountains; this is the view from the verandah of the house I rented (found it on AirBnB)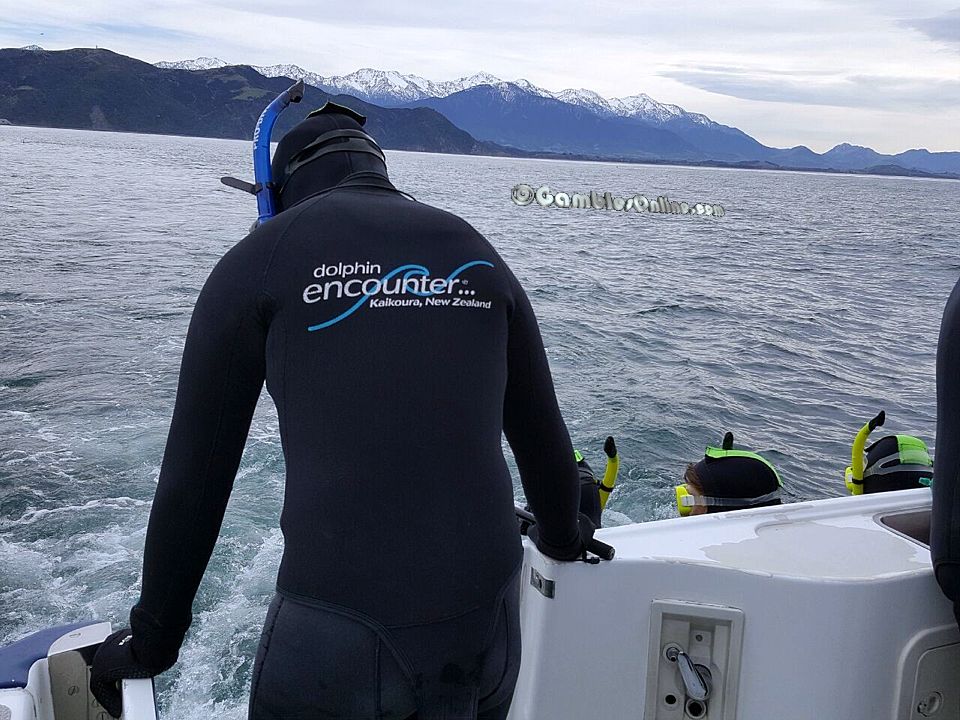 Going in to swim with the dolphins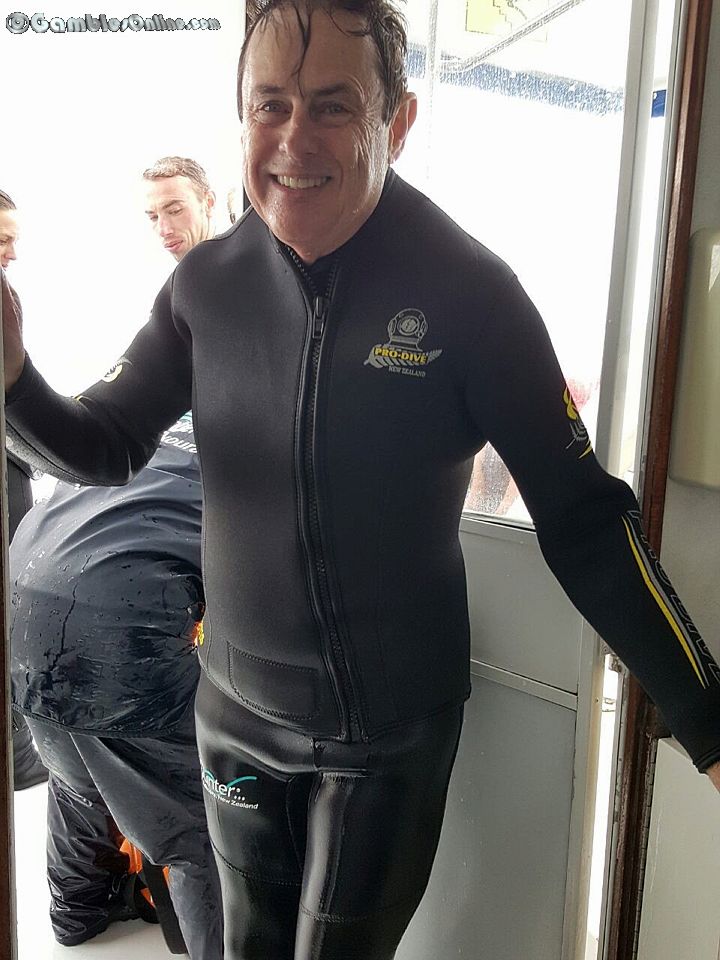 After the swim; that's me looking happy
Kaikoura was the last port of call on a driving tour of the South Island in NZ. There was great scenery throughout the holiday. It's so good that you get anesthetized to it after a while. "Oh, another snow capped mountain fronted by a lake and framed by a clear blue sky". Yes, just another day on the road. It took about twice as long as forecast by Google Maps to drive from town to town because we stopped for so many photos.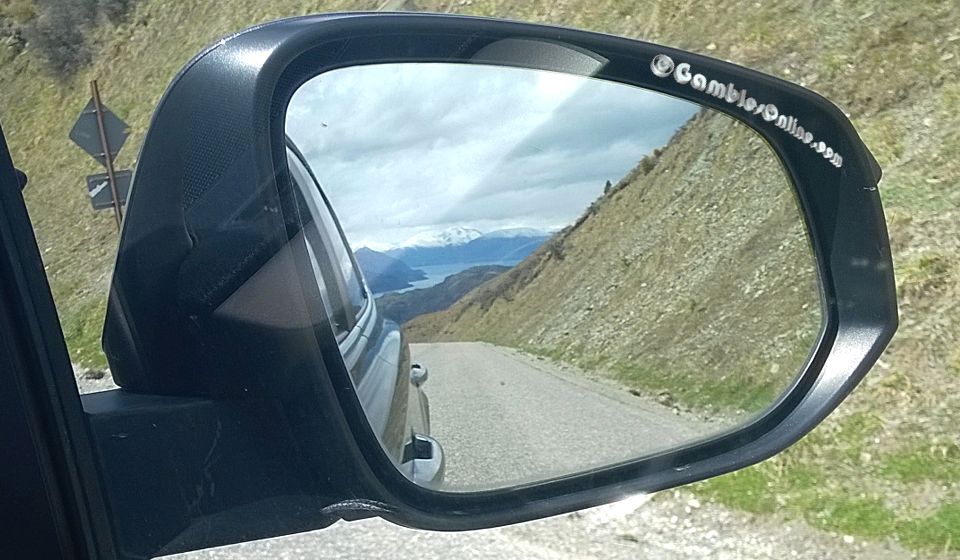 Amazing scenery everywhere
Another feature of the trip was Queenstown. These photos show what it's like. Again, the view is from the balcony of the place I stayed.
Queenstown apt view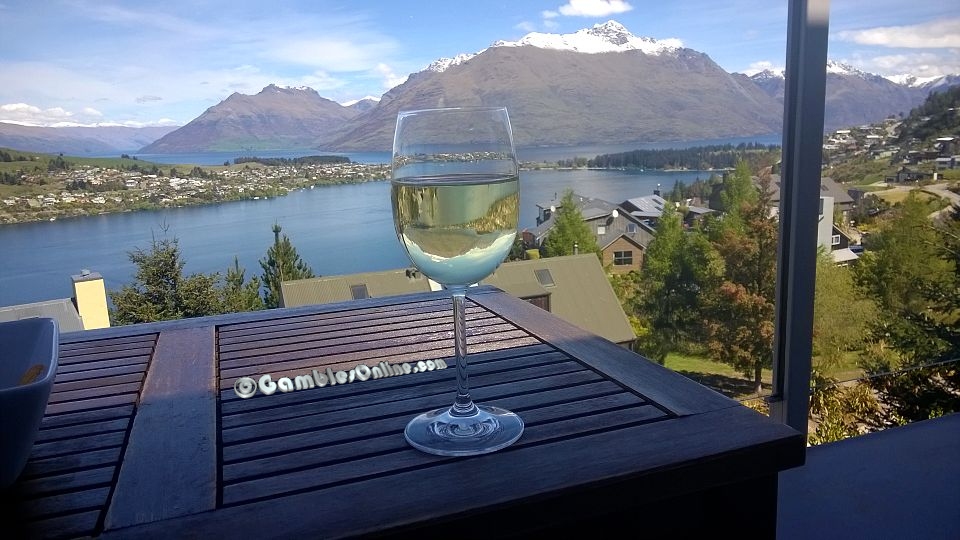 That's one way to take in the view
I didn't like Queenstown as much as Kaikoura, though. I'd never been there before so I didn't know what to expect but it has a reputation as the excitement capital of NZ. It also has snowfields but no one in our group can ski so we went to the snowfields to see what they were like and threw a few snowballs at each other. My view is when you enter Queenstown you're connected to a virtual vacuum cleaner that sucks real money out of your wallet from the time you enter to the time you leave. Let me explain. In Queenstown everything is adrenaline junky stuff. Go on a jet boat; the hydro attack; a bungee jump; and other similar activities. Most things cost $150 per person for 15 mins; it adds up fast when you're travelling with a group. And after 15 mins you're looking for your next activity. In Kaikoura you go on a whale watching tour and it costs $150 per person for 3½ hours; the dolphin tour cost $170 to swim and $90 to "watch", again for around 3½ hours. Maybe I'm showing my age or maybe I'm not made of money but I prefer Kaikoura.
The actual experience of swimming with the dolphins was good, not wonderful, but good. The dolphins are wild and you're not swimming in a pool with a trainer. The tour operator is at pains to tell you the dolphins may or may not interact with you; it's a matter of how interested they are in you not how much you're interested in them. Fair enough. But the water wasn't crystal clear in October. I'd say vision was about 5 meters. So a dolphin or two would swim past you, maybe around you and then they'd be gone. That happened to me maybe 5 or 6 times. Because they swim fast they're in and out of peripheral vision so quickly there isn't much to "experience"; they certainly didn't hang around and look at me or anyone else. If the water was clearer it would have been better because you could probably track them for a longer time and see where they were coming from / going to. Am I disappointed? No. I turned 60 that day. I was in a wetsuit for the first time in my life. I went into the open ocean from the back of a boat for the first time in my life. I had spectacular scenery in the background (as shown in one of the photos above). And, yes, some dolphins swam across my line of vision. What is there to complain about? I had a great time. I'll only turn 60 once and I'll remember it for a long time.
Best wishes to you and your family in 2017.
All the best ... Neil