This is written by Neil, so it has the same rules as last year; references to "I", "me" or "my" mean yours truly.
In December 2014 I went to Phnom Penh for a week's holiday. I haven't been to Cambodia before and didn't know what to expect. Overall I enjoyed it. There were more good than bad aspects to the time I spent there. Food was about the same price as the suburbs of Bangkok; shopping and drinks were much less expensive.
I haven't been as religious about my weight this year. I put on 4½kg (10lb) from my lowest weight of last year. I can't say I'm happy about it but I guess it's not the end of the world.
Roger spent the first 6 months of the year in Montreal doing one semester at McGill University. His time there was an apparent success. He did well in his studies but the stories that came out of the trip seemed to revolve around significant consumption of alcohol. He traveled around Canada and the US for the last 2 months of his stay and I'm really pleased he enjoyed himself. He lived with some other students while he was there and I was proud he showed some independence. When he returned to Sydney he went back to stay with Usa.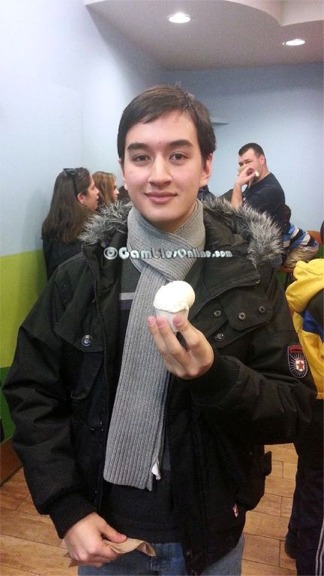 Roger lending his expertise to Ben & Jerry in Vermont
Rex graduated from school in Bangkok and was accepted into colleges (universities) in the US. Unfortunately I couldn't afford the fees of his #1 choice so he had to go to his safety school -- where I can afford the fees. He went there in August and I was pleasantly surprised when he asked me to accompany him to get started in college life. I was able to help him by driving around town getting supplies for the dorm. It turned out if I wasn't there it would have been difficult for him because he doesn't drive, so it worked out well. He was happy for the help and I enjoyed the time. Actually I was thrilled about it. The other good news is he's enjoying the place and the people. Everyone was friendly when we were there. He's heard from friends it's not necessarily the case in other college towns.
The closest airport to his college is in Nashville, TN -- Music City, USA; country music, not quite my thing. But it was probably once in a lifetime experience for me so I bought tickets for a show at the Grand Ole Opry. It was nice but as I said, it's not my thing. There was a guy sitting behind me who was deliriously happy with the lineup so I guess it's a case of horses for courses.
| | |
| --- | --- |
| Rex graduated from school | and celebrated in Crawdaddys Grill |
I'm still with Kung and we get along well. I don't get to spend enough time with her but enjoy the time we spend together. She and her family are good people. Unfortunately I was right last year when I said I'd only see her twice in 2015. The plan is three times in 2016.
PNG is the same -- life and work here are both challenging. The office highlight of the year was BSP buying 4 Pacific banking businesses from Westpac, a big Australian bank. One more country acquisition is planned for next year. The deal closed in mid-July with the plan calling for Westpac to provide (system) transition services for 6-9 months. However, due to the work of my team we managed to take over the systems of all 4 businesses in 3½ months, saving the bank considerable cost (millions of Kina; close to US$1 million).
While living through 2015 it didn't seem like a great year but it wasn't a bad one, either. On reflection that may be an unfair assessment considering I went to Cambodia for the first time (in December), saw Kung a few times, observed Roger's adventures in Canada from afar, went to the US with Rex to get him started in college and then went to Adelaide to see my father (who's 90 in December) & my sister. Plus the professional success of the Westpac system takeover. When I look at it like that it sounds like a good year. I recommend you see the photos of 2015 as they show the highlights of the year.
Best wishes to you and your family in 2016.
All the best ... Neil