This has been the closest thing we've had to a "normal" year since 2000. A full year in the same country, same city, same house, same school, same job(s) and same cars as the year before; wow, that's unusual for us. Everyone is settled into their role and routine; Roger and Rex are at school in RIS; Usa is working hard in her own business; Neil is working hard in IBM. We concluded last year's letter by saying "if at the end of 2003 we can say that we are safe, sound, healthy and employed that would seem to the best we could hope for." So we have, indeed, had the good year we hoped for.
Family Portraits 2003

Roger & Rex 2003
Usa started her real estate business – RUNR Realtor – late last year. At the time we said that it'll make us all millions. That hasn't happened yet but it is starting to earn its way. The market for existing homes in Bangkok is small; most houses are new developments marketed by the property developer. Existing home sales volumes are modest as most people prefer to look at new houses. Usa has managed to sell a few houses and townhouses. She has also identified the rental market as one that has good prospects; unfortunately most of the turnover in that market is in the downtown (expat) area and we live far away from there. With her language and social skills Usa is well placed to participate in the rental market, but logistically it is difficult. She has been broadening into the commercial market – participating in the sale of mid-market hotels and factories. If she managed to get one of those deals on an exclusive basis then she would probably make more money than Neil.
As we said, the property market in Thailand is tough. Even though she started late last year, Usa was awarded the ERA 2002 Rookie of the Year award. And 12 months later she is now one of the senior franchises in the ERA Thailand network; many people start a franchise and then drop out, finding it's harder to make money than they thought. So we are proud of Usa and what she's doing.
Roger completed Grade 3 during the year and is now in Grade 4. He is doing well academically, consistently being in the top 1/3 of his class. However, he seems to have some issues with authority and being directed. He so strongly believes that he is right about everything that he has no inhibition telling others (including teachers) that they are wrong when they try to guide him. Given that he's 9 and his teachers are 49 our guess is that the teachers have a greater stake in the knowledge tree. This is a discovery that Roger has yet to make …
Besides that Roger is a fairly normal 9 year old boy. He used to live for his Gameboy, but we took it away after an incident at school; probably a good thing because he was obsessed with it. Now he lives for his Playstation, Cartoon Network and the Internet sites that he enjoys (mostly neopets.com). He also visits lego.com and earlier in the year he had one of his creations featured on the Lego homepage together with about six other children from around the world. Unfortunately this only lasted for one day and we didn't think to take a copy of the page when it was published. It's a good thing that we even managed to see it! Still on the subject of the Internet, when we were publishing this letter Roger was building an interactive game using a tool from the Neopets website and uploading it for others to play. He spent quite a bit of time designing the game; then he uploaded it and started to play it himself; he made it quite difficult and was having a hard time getting enough points to win. But he assured us that as the game builder he HAD to win this game!
Rex completed kindergarten during the year and is now in Grade 1. Rex is consistently rated as one of the most popular in his class. The teachers love him because he pays attention to what they say, concentrates hard and does what he is told. That he happens to be very cute does no harm either! In November he was awarded the "Most Respectful Student" in Elementary School for the month.
Rex's challenge is that he has trouble reading. This was diagnosed in KG and for all of this year he has been in special ed class to work on it. His special ed teachers tell us that he is making great progress, but we also know that he is not at the same level as his Grade 1 peers. He compensates by having excellent speech and comprehension; this probably accounts for his concentration in class. For most of the year Rex has wanted to be a movie star when he grows up; late in the year he changed his mind and decided he wants to be a magician. One way or another he seems to have an interest in show business, so we'll see how that develops over time. He was recently cast in two TV commercials, one being shown now and the other in production. Neil hasn't seen the current ad, but Usa has and assures us that Rex is wonderful! That is no doubt a completely unbiased assessment.
For the past 3 months both Roger and Rex have been enamored with Star Wars. Every now and again if you ask Rex what he wants to be when he grows up he'll say that he wants to be a Jedi knight. We have explained to them that Star Wars started with episodes 4, 5 and 6; then they made episodes 1 and 2; now they are working on episode 3. (This is a difficult concept to grasp when you're 6 or 9; many times we have tried to answer why they didn't start at episode 1 and then go to 2, 3, 4, 5 and 6.) Anyway, we have told them that the Star Wars creator plans to make episodes 7, 8 and 9 [even though we think it is unlikely]. Now Roger has decided that he should make episode 10, followed by Star Wars Special Editions 1 and 2 (which he tells us in all seriousness are just marketing names for what would be episodes 11 and 12). Rex has joined in and decided that he wants to make Star Wars episode 13. Roger says he has story ideas now and might even be writing them down. We guess that Rex will wait and see what Roger comes up with and then develop his episode from there. Oops ... we were wrong!
Neil continued with IBM Thailand throughout the year, with quite a lot of travel. The 2nd and 3rd quarters were spent about half in China (Beijing) and half in Bangkok. 4th quarter was spent in Singapore on weekdays and Bangkok on weekends. The plan for next year is to spend more time in Thailand. IBM has a lot of work in banks in Thailand and has been bringing people in for assignments, so next year we hope to rationalize some of those movements by having Neil work more in-country.
In July the Gambles went to for a holiday in Phuket. All the photos are available but just these few show the clear water and wonderful scenery of the south of Thailand.
| | |
| --- | --- |
| | |
One of the news items of the year was the outbreak of SARS. This was a really crazy time and Neil happened to be working in China. He got out of Beijing 3-4 days before it was basically closed down and the lines at the airport of foreigners leaving made it feel like people fleeing a war zone. It was a crazy time because no-one knew what to do about the disease; at one stage Roger and Rex's school was going to force them into 10 days of quarantine every time Neil returned from China; they discovered logic before they enforced that rule, but if enforced it would have meant that Neil's choices would be, on return from China, to either stay at home meaning Roger and Rex could not go to school, or stay in a hotel so that they could go to school; we never got to ask IBM whether or not they would pay for that hotel.
Thailand's health regulations were altered several times during the period, but the latest one was that people entering from a "SARS infected" country had to have medical checkups every 3 days for 10 days after entering Thailand. After one trip to China, exactly 10 days after returning, Neil got a high temperature. He went to the hospital and they decided that as he'd been to China it had to be SARS; the Department of Public Health was contacted and Neil was immediately put into an isolated ward of a hospital. No-one was allowed in or out of the room unless they were medical staff wearing hazmat suits; no family and no visitors allowed; Dept of Public Health officials checked in every day or so. It was scary. Half a day after admission the temperature disappeared but Neil was kept for 4 days in the isolation ward with nothing to do – no books, no telephone and no computer – nothing except a TV that only showed Thai channels. We do have one thing to show for it; something that not many people in the world have: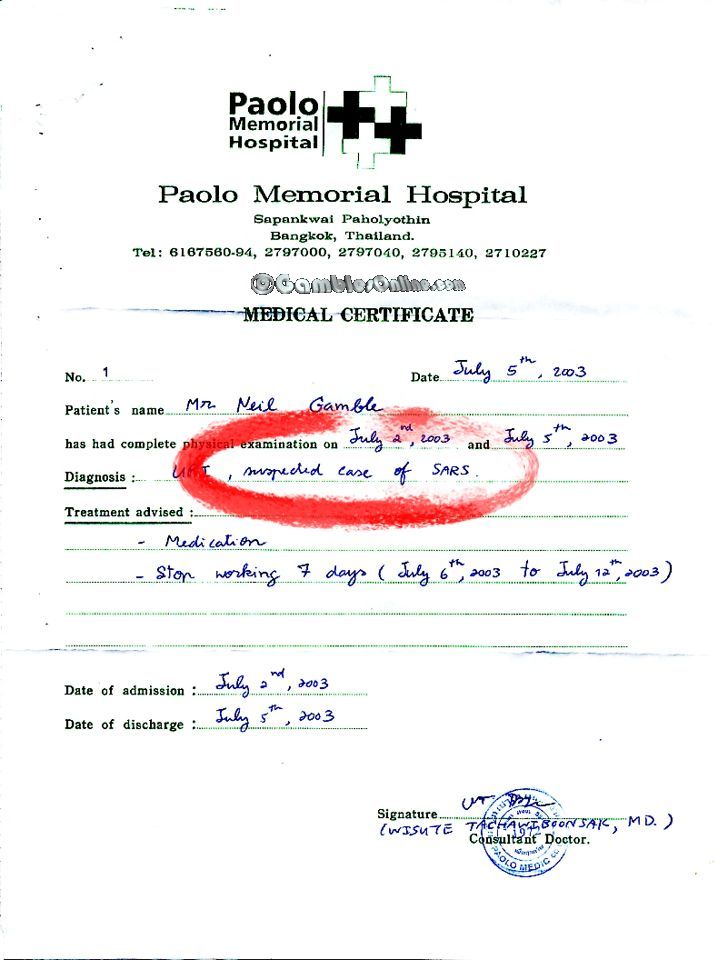 Neil's SARS Medical Certificate
Usa's comment was interesting; she said that she doesn't know anyone else who would be willing to die for their job.
In wrapping up, Roger and Rex just reminded us that there are family members we haven't mentioned yet. In Bangkok we have some chickens and hamsters. We got two chickens (one chicken, one rooster) more than a year ago; they in turn managed to have a chick (now fully grown). One of Usa's customers saw we have chickens and gave us two more; however, the old and new chickens are type breeds fight with each other so we separated them. Roger and Rex also wanted hamsters; after much delay we recently went out and acquired two. We are learning that hamsters are nocturnal; they are quiet during the day but active in their cage and the running wheel at night.
In summary we are pretty happy with 2003. We hope that next year will be a good one, too. And we send you our best wishes for the New Year.
Neil, Usa, Roger and Rex – The Gamble Family in Bangkok